I get so many inquiries about people wanting tiny Shih Tzu and it saddens me...SO...I pulled it off a website (and changed some names to protect those who might be offended) to add a little humor and enlightenment into the Imperial Shih Tzu scam many breeders use to sell dogs to people who want to believe what they are being told by these BAD breeders. (I don't know any of these people personally, just thought the articles were funny) Please send me letters of your accounts of purchasing an Imperial or Tiny Shih Tzu so we can stop these breeders from lying to their clients. Unfortunately, when they turn 6 or 7 months old and you paid for a 3-6 lbs Shih Tzu and end up with a 15 lb one you are too in love with this wonderful dog no matter what the size that the breeders get away with it, they know you won't return him and if you read the fine print you will never get a written guarantee of the size of the sweet little dog. Other Sales Scams: See At Bottom Of This Page
Buyer be-AWARE! Learn More from the ASTC Check Out LAW-SUIT & Wizard of Claws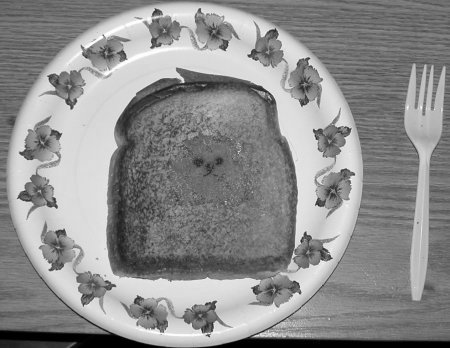 A Grilled Cheese Sandwich with a photo of the Famous Imperial Shih Tzu " The Gabe" The Grilled Cheese Sandwich sold on Ebay for 20 thousand to a man named Russell Conrad.
We tried for weeks to get an interview with Mr. Conrad and we found him in his Brentwood home and got this statement: I'm not a religious man but I know a miracle when I eat one.
This is poking fun at these so-called breeders, however, the one's laughing the hardest are the breeders trying to sell you one of these phony dogs. Please don't buy into the Imperial Shih Tzu scam...just because you hear what you want to hear. There certainly are small Shih Tzu out there, but they are usually not the hearty, robust doggies we all have come to love and are bred as a fluke from time to time and in general not bred or predicted to be small in a reliable fashion. Small dogs occur from time to time in any breeding program and there is no way to predict this, they are runts, some are hearty, many are not, especially if irresponsible person is trying to breed for this result. Please be careful and buy a healthy dog.

Other Sales Scams:

If someone seems to be running a pet business (obvious by listing prices, selling many many dogs, selling more than one breed, not belonging to local or national dog clubs, taking credit cards and otherwise looking like a pet store, rather than a home grown small breeder). If they do not actively show their dogs and claim to have Championship Pedigrees, they are most likely lying and they are selling and exploiting dogs to make a living. If they claim to have this type of dog and can't back it up, you can conclude that they have a fake pedigree or one they stole from some show person's website and is claiming it for their own and they are ONLY using this PLOY to get more money for their dogs. Show people do not charge extra for Champion pedigreed dogs, all (or most) of their dogs are CH pedigreed. I have seen Websites claiming to have 40 Champions in a pedigree. HUH? Having one or two CH in a 4-gen pedigree does not make it a CH pedigree either, most dogs in the pedigree, especially the parents and grandparents generation should have most if not all Champions and the person should be actively showing and be able to prove it.

Listen up:

There are 7 dogs in a 3-generation pedigree, 15 dogs in a 4-generation pedigree and

30 dogs in a 5 generation pedigree. The AKC only supplies a 3 (typically) or 4 generation pedigrees. I am a show person (someone deeply involved in showing and receiving Championships on my dogs), I have RARELY seen a pedigree that can be researched back and goes out to 5 and 6 generations with all champions. 99% of people do not have 5 generation pedigrees at their disposal (and the AKC does not supply them), they must be researched and/or the person owning this dog most likely owning most of the dogs in the entire pedigree, which again should tell you that this person must actively be showing their dogs, with ribbons, photos of themselves with judges inside the rings, with CH listings on the AKC website or Infodog stating their dogs have a winning record. You can google my name, you will find many listing of my dogs records. I have Excellent pedigreed dogs and my best pedigree has 27 CH in a 5-gen ped. Ask to see a certified AKC pedigree AND the registration certificate that comes with every AKC dog. See if the dog's names match, see if the 1st and second generation are Champions and most of all make them prove they actually show their dogs. They should have an AKC Championship Certificate on dogs they claim to be Champions or you can look up the dog by name on the AKC website to see their titles. Call me if you have more questions.